Facelift & Necklift Surgery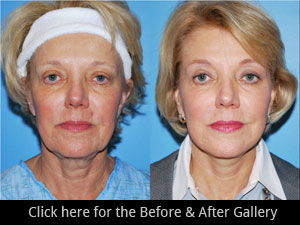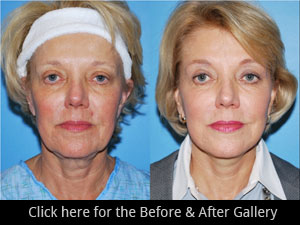 What is a facelift?
First of all, we know that there may be some confusion with respect to all of the different terminology pertaining to facelifts and related procedures, so we will start by clarifying some of the commonly used terms:
"Facelift": Often, we use the term "facelift" to refer to a combined "facelift & necklift" surgery. This is a facial rejuvenation surgery that helps restore a youthful appearance to your face and your neck.
"Mini-facelift": This term refers to a slightly less aggressive procedure that offers very similar improvement in the face but slightly less dramatic improvement in the neck.
"Liquid facelift": This is a non-surgical option that uses cosmetic injectables to provide a more youthful appearance. This may be a good option for patients who are interested in some rejuvenation but aren't quite ready for surgery.
What can a facelift do for me?
Facelift & necklift surgery will provide you with a natural but tighter, firmer, and fresher appearance. The goal of surgery is to leave you looking like a more youthful version of yourself without appearing "overdone" or artificial. A combined facelift & necklift smooths loose skin on the face and neck, tightens underlying tissue, and removes excess fat via liposuction and direct excision when needed. The sagging tissues under the skin are then tightened, and the skin is re-draped to provide a smoother, more youthful contour to your face and neck.
Who is a good candidate for a facelift?
If you have started to notice deep wrinkles, sunken cheeks, fullness in your jowls (extra skin at the mid-portion of your jawline), and excess, drooping skin in your neck, then you would probably be a great candidate for a combined facelift & necklift. In the right patient, a "mini-facelift" can provide a similar result to a full facelift & necklift surgery. A "mini-facelift" achieves the same benefits in the face, but the changes in the neck are less dramatic. If you have minimal excess skin in the neck, this may be a good option for you. When you come in for a consultation, Dr. Sidle will examine you and discuss which option would likely work best for you.
Are there any other procedures that can be combined with a facelift procedure?
In patients with small or "weak" chins, we often suggest combining a chin augmentation procedure with their facelift. This can provide a more ideal frame on which to re-drape skin and underlying tissue, resulting in a more aesthetically-pleasing profile. For more information, please see the Chin Augmentation page.
Patients who are bothered by the appearance of their face and neck often have similar concerns about the tired, aged appearance of their eyes. In these patients, combining a browlift, upper blepharoplasty, and/or lower blepharoplasty. These procedures are commonly performed at the same time as a facelift surgery. For more information, please see the Blepharoplasty and Browlift pages. 
Finally, some fine lines, sun damage, and facial scars are not addressed with facelift surgery alone, In many cases, adding a chemical peel or laser treatment can restore smoothness and tone to the skin. For more information, please see the Skin Resurfacing page.
Will other people know that I had a facelift?
After you are fully healed, your friends and family will notice that you appear more youthful and refreshed, but you will not have an overdone, "surgical" appearance that stands out unnaturally to other people. While there are many variations in facelift technique, in all cases, one of the major goals is to keep the incisions hidden and concealed. The incisions are designed to keep the scars as inconspicuous as possible, and ultimately, they will be nearly invisible.
What can I expect after surgery?
Facelift surgery will restore a more youthful appearance by providing fuller cheeks, reducing laxity and fullness in the jowls, and tightening loose, sagging skin in the face and neck. The initial recovery period will typically take 10-14 days, during which time some swelling and bruising is to be expected. For the first week, you will wear a gentle dressing that helps the skin stay in ideal position during the early stages of healing. Some tightness and numbness will persist in the face and neck for a few weeks. When you come in for your consultation, Dr. Sidle and his staff will go through your surgical plan and your recovery period in great detail and answer any questions you may have.
"Liquid Facelift"
What is a "liquid facelift"?
At his downtown Chicago office in Northwestern Memorial Hospital, Dr. Sidle offers many non-surgical options for the treatment of facial lines and wrinkles. Dr. Sidle offers patients a "liquid facelift", which may be a good non-surgical option for patients who are interested in facial rejuvenation but may not be ready for surgery yet.
A "liquid facelift" involves utilizing cosmetic dermal fillers to restore volume to areas of the face where volume loss has occurred due to aging. During the aging process, fat and collagen are slowly lost, which causes facial tissues to lose volume and appear to descend or "sag". In particular, patients will notice a loss of volume in their cheeks, lower lids, and jawline, as well as more prominent folds and depressions around the mouth.
To address these areas, dermal fillers (cosmetic injectables) are strategically injected into facial lines, wrinkles, and folds to restore volume and fullness to the skin, providing a more toned, youthful appearance. Cosmetic fillers can replace the lost volume and stimulate new collagen production. Each cosmetic filler has its own unique properties and characteristics, as well as optimal performance profile and longevity. Botulinum toxins are often a useful adjunct to dermal fillers during non-surgical facial rejuvenation. For more information, please see the Cosmetic Injectables page.
What can I expect after the procedure?
Most patients report that the injections are relatively painless, and they feel comfortable resuming their normal activities immediately following treatment. There may be temporary puffiness and, occasionally, mild bruising of the treated areas, both of which, if present, should resolve within a few days after treatment.
Why choose Dr. Sidle for surgical facelift and non-surgical facial rejuvenation treatments?
Experience Matters. As a double board-certified Facial Plastic Surgeon at Northwestern with special expertise in rejuvenation of the eyes and face, Dr. Sidle can provide you with an individualized plan to restore a more youthful appearance to your face. Call our office for a one-on-one consultation.
Post-operative Instructions
All post-operative instructions can be found on the Patient Resources page.
Our Results
Click here to access Dr. Sidle's Before & After Gallery for all procedures. 
Chicago Facelift | Chicago Non-Surgical Facelift